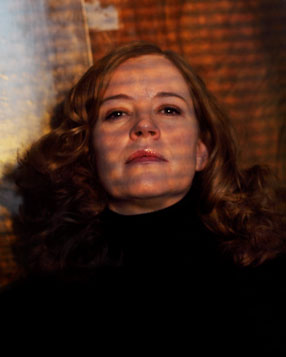 Katharina Nuttall is an artist, film composer and music producer, born July 14, 1972 in Drammen, Norway. Nuttall lives in Stockholm, Sweden but is a Norwegian citizen with a Norwegian mother and a father from the UK.
Her debut album This Is How I Feel was released in 2007, followed by Cherry Flavour Substitute in 2008. Songs from the two albums were put together on the European release Cherry Flavour Substitute Limited Edition, an album that was awarded a German Record Critics Award in 2009.
Cherry Flavour Substitute, the second album of the young swedish musician, released on her own label Frances Records, is a great success. On the one hand, it is melancholic, dark chamber pop, on the other hand, the eleven songs of the album glitter almost cinemascope-like orchestrated. Nuttalls voice sounds fragile and elfin, but at the same time it has the energy to be a match for stars such as Beth Gibbons (Portishead), Susan Janet Ballion (Siouxsie & The Banshees) or Polly Jean Harvey easily. An exquisite musical treasure, brilliant in every sense. Für die Jury: Jan Ulrich Welke
Her third album Turn me on,  a collaboration with English producer Head known for his longstanding working relationship with PJ Harvey was released in 2011 by record label Novoton and was met with brilliant reviews.
Katharina Nuttalls artistry moves freely between genres and art forms and on her three records she has explored different musical styles and expressions. The material presents her as a wilful artist who succeeds in blending her straightforward lyrics with beautiful melodies that are often punctured by rock and raw elements. Always striking a pose in the melodies, is Katharina's extensive voice. Whether it lingers deep or floats tenderly high, it is done with the same delicate and dynamic precision. Her work is often based on a need to conceptualize events from her own life and the lyrics characterize experiences, observations of the mundane day-to-day life and emotions about people in her milieu. As a songwriter Katharina is inspired by "Any music from the heart that compells", as she puts it. Growing up surrounded with British pop music, she was heavily influenced by bands like "David Bowie, Radiohead, Massive Attack and the American refugee Scott Walker. Other examples were Patti Smith, Leonard Cohen, The Velvet Underground, Nick Cave and Laurie Andersson.
'The Garden' is her fourth solo studio album and to be released in the first half of 2021. The album is a concept album about emotional flows and resurrection combining songs, instrumentals and spoken word. Inspired by Charles Baudelaire, John Keats and dirt. 'The Garden' is also a collaboration with visual artist Albin Biblom.
Katharina Nuttall has earlier had success as a producer with other artists and their best selling albums and she also writes music for both feature films, documentaries, tv and short films. In 2019 she received the Canadian Federation of Musicians Award for Best Musical Score at Vancouver International Film Festival for the movie The Feminist. As a film composer and her debut 2006 with the feature "Rosa the movie" (SF) she has written the music score for several film projects. She is currently writing the music 2020-2021 for a number of projects, among them "Josefin and Florin" by directors Ellen Fiske and Joanna Karlberg, the movie "Passion" by director Maja Borg, "Chronos" by Albin Biblom, "Imads Childhood" by Zahavi Sanjavi and "Into The bank" by Åsa Ekman and Oscar Hedin.
Katharina is educated in Stockholm with a Master degree in Film Music Composition from The Royal College of Music (KMH) and Stockholm Academy of Dramatic Arts. In addition she has a Master degree in Sound Art from Stockholm Academy of Dramatic Arts.
Katharina was born in Norway with a Norwegian mother and an English father. She grew up living in both of the countries and moved to Stockholm in 1994 to study theatre and eventually decided to make the city her home. Katharina's father introduced her to the piano during her childhood, but it wasn't until she turned 21 years old and got her first guitar, that she seriously attempted to compose her own music.